This Verdejo wine comes from an ungrafted vines planted in 1900, in Hornillos de Eresma (Valladolid), before the arrival of the phylloxera plague in the area.
It is a vineyard of0.98 hectarescultivated in goblet, in the traditional way of the time. It has a limited production of 2,000 bottles.
All of the above, added to the careful winemaking process, makes this wine exceptional. The character of this unique vineyard and its environment, with deep, sandy soil, nestled among pine forests, gives the wine a unique personality with exceptional sensory characters, accentuated byaging on the lees in oval concretetanks and 500 liter French oak barrels.
It is a wine with complex aromas of white fruits, citrus, fennel with a mineral touch, very subtle and well integrated wood. The palate is broad with volume and good acidity, saline and very persistent.
Last Thursday, March 10, we presented our Verdejo Prefiloxérico 2020.
The presentation took place at the Zalacain restaurant, which is part of the gastronomic heritage of the city of Madrid, at a lunch offered to wine critics of our country.
For the event, a special menu was prepared and paired with several of our products: the appetizer was served with Castelo de Medina Verdejo 2021 and Castelo de Medina Verdejo VS 2020, followed by our Castelo de Medina Sauvignon Blanc VS 2020 to combine with the lobster salad, and the mushroom, truffle and foie ravioli was paired with Castelo de Medina Verdejo Fermented in Barrel 2020.
To conclude, with the sea bass, the star of the night: the Verdejo Prefiloxérico 2020 de la Viña de Hornillos de Eresma.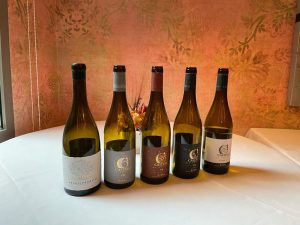 For more information, please access the product download sheet.